Welcome to the 2022 VVBMCG!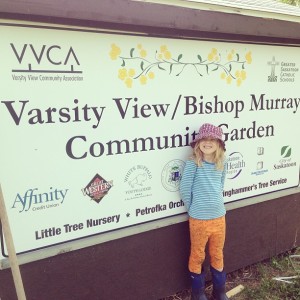 It's springtime, which means thinking green! The Varsity View Bishop Murray Community Garden is one of the longest-running community gardens in our city, and this year will be our 12th year running!
Registration for RETURNING gardeners will take place in April 2022, and if there are any available plots for new members to join our community, registration for NEW gardeners will occur in early May.
If any new gardener is interested in being put on the waiting list for garden space, please contact vvbmcg@gmail.com. All plots are given out on a first come, first serve basis.
---
2018 EVENTS:
What's so great about a community garden?
Sunday, May 6, 2018 at 1:00pm

A community garden can be an oasis of calm in the middle of a busy city. Join us for a slow stroll around the Varsity View Community Garden. It will be short on distance but long on chat.
Fruits and vegetables, flowers, gardeners from around the world, art, wildlife, potluck suppers: we've got it all and we want to tell you about it.
Leaders Keith, James, and Patty will give you a potted history of our garden and look forward to lots of questions.
We will meet beside the parking lot in the schoolyard behind theschool. The walk will last about an hour.
---
Our first Work Bee will be: Saturday May 12, 2018 at 9:00 am held at the garden site (behind Bishop Murray High School – Wiggins and 12th St.)
You are all asked to join us at that time. We need as many people as possible, as there is lots of work to be done to start the season.
Please bring with you:
garden tools (ie. rakes, shovels)
wheel barrow (if possible)
water bottle, snacks
chairs/blankets to sit on
We will celebrate the start of our gardening season by ordering a pizza lunch.
---
Visit our Facebook Page:
---
General Information: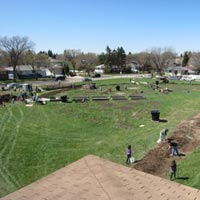 Our community garden is growing by leaps and bounds.
The garden area, behind Bishop Murray High School, was originally an elementary school park. As the school was converted to a high school, the park was under utilized and lacked amenities despite being one of the largest green spaces in the neighbourhood. "it is such a gem of a space," says founder and Committee Chair James Perkins. "To have a large, free, green space in an older neighbourhood is one of a kind opportunity to better engage community, schools and students on a meaningful level."
The project gained momentum in 2009 as the VVCA approached the greater Saskatoon Catholics school board with a proposal to develop a garden space and orchard for shared use between community members and student of Bishop Murray High School. By spring 2010, plans were finalized and 70 plots dug with experienced community gardeners such as Don Ragush leading the way. City Councillor Charlie Clark, garden supporter and councillor for the area, "when it was time for shovels to hit the ground, it was awesome to see people flooding to the garden to help out from all corners of the neighbourhood and city to make it happen." The group also constructed 20 raised beds with the help of Bishop Murray Students.
The garden now includes 124 plots and hosts 60 gardening families, community and educational groups including students from the Public and Separate school systems as well as children form White Buffalo Youth lodge.  Don Ragush, a nurse practitioner with White Buffalo and organizer of their involvement adds, "seeing kids enjoy their first garden pea is very rewarding. They are always eager to help out when we visit."
Individuals interested in gardening can contact the VVBMCG by email.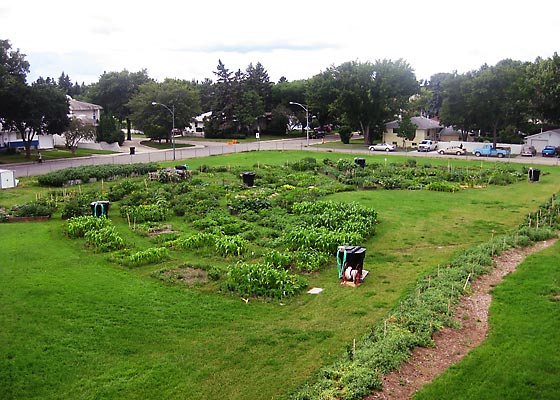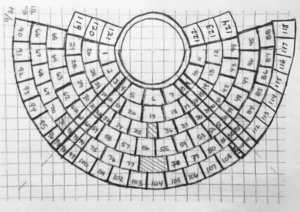 ---
VVBMCG Committee:
Rebekah Bennetch – Registrar
James Perkins – Chair, VVCA Program Representative
Shathi Akhter
Tawhidur Rahman
Blair McCann
Patty Lozowchuk
Keith Moore
Don Ragush
Ted Stensrud
Paula Gioino
Heidi Sheehan
Joslyn Fritz
Thomas Hickey – Bishop Murray High School principal
---