Brunskill Pharmacy
1308 and 1302 Temperance Street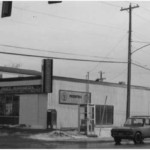 Brunskill Pharmacy was originally called Al's Brunskill Pharmacy and the original owner was Al Segal. The business opened in 1954 at 1308 Temperance Street (current Temperance Café space). Al operated the pharmacy for two years before it was taken over by Thordy Kolbinson on August 15, 1956. The building consisted of a pharmacy on the main floor, one or two rooms in the basement, as well as rooms on the upper level of the building.
In 1963, Brunskill Pharmacy moved from 1308 Temperance Street to 1302 Temperance Street. The building consisted of a main storefront. Connected to the back of this main building by a narrow hallway was another building that housed a barbershop, meat market, jeweler, and a clay studio. In the mid-1960s, Ross J. Higbee moved and Higbee's grocery was sold to Thordy Kolbinson. The space was maintained as a grocery store and the two buildings remained separate until 1987, when the wall separating the two businesses was knocked down. The buildings then became one, which is how it is seen today. In 1987, Thordy Kolbinson sold the pharmacy to Ron Mack.
Brunskill Pharmacy offers pharmaceutical services, and also sells basic groceries and school supplies. When Luther Towers opened in 1978, the pharmacy began providing pharmaceutical services to Tower residents. Brunskill Pharmacy continues to provide services to long term care homes such as Luther Towers and Oliver Lodge. Brunskill Pharmacy was also one of the first stores in Saskatoon to have trucks deliver medicine and groceries to residents across the city.
To learn more about Brunskill Pharmacy and the services it provides, please visit the following link: http://brunskillpharmacy.com/index.php
This information was gathered from the following sources:
– Henderson's Saskatoon Directory, 1954-1963.
– Thordy Kolbinson, personal communication, July 17, 2014.
– Ron Mack, personal communication, July 22, 2014.
---
Hartnett Rexall Drug Store
520 Clarence Avenue South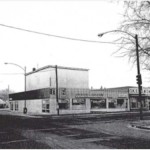 Hartnett Rexall Drug store was located at 520 Clarence Avenue South (corner of Clarence Avenue South and 12th Street East). It was present in this location from 1965 until 1967.
---
OK Economy
520 Clarence Avenue South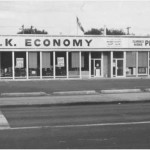 OK Economy store located at 520 Clarence Avenue South. It was in this location from 1967 until 1976 . Next to it is the Clarence Avenue Pharmacy at 516 Clarence Avenue South. It was in this location from 1969 until 1970, when it became Albert Pharmacy.