Varsity View is home to one elementary public school and one Catholic high school, as well as a preschool and other services for children with developmental, cognitive and/or physical challenges.
---
Varsity View Co-operative Preschool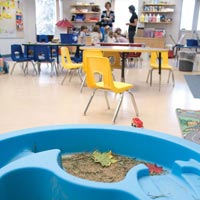 The purpose of the Varsity View Co-operative Preschool is to provide a quality preschool for children. By offering an enriching preschool program for the three and four-year olds in our community, we aspire to ease their transition to kindergarten, offer them the opportunity to attend school with older siblings and familiar neighbourhood children, and, in the process, we hope to promote a greater sense of community well-being.
The preschool operates in conjunction with Brunskill's school hours and days. We provide preschool classes five days a week, in both morning and afternoon sessions. The public school system holidays are observed, as well as PD (personal development) days for our teacher. Children can be enrolled in 2 day (Tuesday and Thursday), 3 day (Monday, Wednesday and Friday) or 5 days a week.
Location: 101 Wiggins Avenue (in Brunskill School, use Colony Street entrance) (map)
See the Preschool's website here.
---
Brunskill School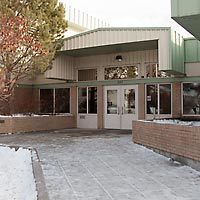 Brunskill School is a Kindergarten to Grade 8 elementary school located just three blocks south of the University of Saskatchewan campus. Renovated in 2000, Brunskill is a comfortable and safe facility in which to learn. Opened in 1951, our school was named after William Cy Brunskill, a dedicated member of the Saskatoon Public School Board for 28 years.
Our enrolment is about 400 students, including a therapeutic preschool in the adjoining Kinsmen Children's Centre (KCC). Brunskill is staffed with approximately 24 teachers, 6 teacher associates, 3 caretakers, 2 administrative assistants, a vice principal and a principal. We share with other Saskatoon public schools the services of a speech language pathologist, school psychologist, school counselor, and social worker. We also have access to many other consultants and resources from within Saskatoon Public Schools.
Brunskill has a special feeling about it. We attract students from countless walks of life. Approximately two-thirds of our students reside outside our immediate community. Many parents who choose to send their children to Brunskill work at Royal University Hospital, the University of Saskatchewan or related science and technology centres in Saskatoon. We boast a diverse population, as some of our parents are, themselves, international students working at or studying at the university.
Brunskill School Community Council
is made up of elected individuals from the community(often parents of students) who help advance the educational objectives of their school.
elections are held every September. Parents are encouraged to attend SCC meetings which are held the second Tuesday of every month.
encourages and facilitates parent and community engagement in school planning and improvement process.
collaborates with the principal and the school staff in the development of a school- level learning improvement plan.
carries out appropriate activities from the plan.
participates in training and development opportunities.
Brunskill Home and School
is made up of parents from the school.
has elected members.
carries out fund raisers through out the year to raise money for the school.
uses money raised for school trips, student planners, laptop computers, etc.
organizes and carries out school activities such as school dances.
accounts for money spent running the council.
Location: 101 Wiggins Avenue (map)
See more information on the school website here.
---
Bishop Murray High School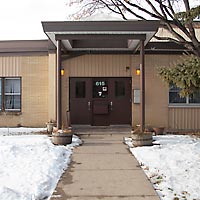 Bishop Murray High School is an Alternate High School program within the Greater Saskatoon Catholic School division. The program meets the needs of students from the entire city who have had challenges in our mainstream high school programs and require additional support. For example, we provide Day Care for 14 students and their children, in partnership with Catholic Family Services, and we have Career and Work Education as a focus for our older students.
Our students and staff have increased their connection with Varsity View residents through the Community Gardener initiative and look forward to growing that relationship in the coming years.
Location: 615 Wiggins Avenue (corner of Wiggins Avenue and 12th Street) (map)
See more information on the school website here.
---
Kinsmen Children's Centre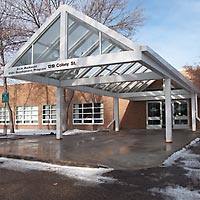 The Kinsmen Children Centre is connected to Brunskill School in the residential area of Varsity View. This Centre houses 3 programs: Alvin Buckwold Child Development Program, Saskatoon Health Region; Early Childhood Intervention Program (ECIP), Ministry of Education, and the Saskatchewan Prevention Institute.
For more information on the Alvin Buckwold Child Development Program please refer to their website here.
The Saskatchewan Prevention Institute is a provincial non-profit organization with a mandate to reduce the occurrence of disabling conditions in children. We focus on primary prevention and health promotion sharing information from the current evidence in peer-reviewed literature and collaborating to develop provincial and local resources and programming.
Our focus areas are: substance use during pregnancy; child injury; parenting programs with the intent to prevent neglect and abuse; early childhood mental health; maternal and infant health; reproductive health; and other emerging issues of early childhood that have the potential to negatively impact health.
We are funded by the Kinsmen Telemiracle Foundation, the Saskatchewan Abilities Council, the Government of Saskatchewan and are partnered with the University of Saskatchewan and the Community-at-Large. Our website www.preventioninstitute.sk.ca provides detailed information about our organization and our programs.
The Saskatoon Region Early Childhood Intervention Program (ECIP) is part of a province-wide network of home based family support services for families with children from birth to school age who experience or are at risk for developmental delays.
ECIP believes that families who receive their support:
Have increased potential to care for their children
Have increased potentia lfor an improved developmental outcome.
The Early Childhood Intervention Program can be contacted by phone at (306) 655-1083.
Location: 1319 Colony Street (map)
---