Special Projects Update
What park project do we tackle next?
March 2019 – VVCA is asking for community feedback and ideas on parks and facilities in the Varsity View and Grosvenor Park neighbourhoods. With the Raoul Wallenberg park enhancement nearly complete and Albert Rec Unit beginning construction in fall of 2019, our major initiatives are wrapping up.
What's next? We have been thinking about Albert Oulton Park (corner of Cumberland Avenue and 12th Street/Garrison Crescent), or Cumberland Park (Cumberland Avenue and 8th Street), or continue to further enhance Raoul Wallenberg Park (Munroe Avenue and 10th Street).
Are there other parks or areas that need some love and attention? What should we accomplish in these (or other) areas? More benches? Bicycle racks? Games tables? Exercise equipment?
Feel free to email your ideas to the VVCA President, or meet with us at any community function to discuss your ideas. Come out to the VVCA Summer BBQ on June 2 2019 in Raoul Wallenberg Park and chat with us. We'd love to get your input!
---
Raoul Wallenberg Park Enhancement Project
Members of your VVCA have been working alongside congregation Agudas Israel over the last year to bring an under-utilized corner of Raul Wallenberg Park to new life. The project design is to include a meditative walking path, decorative garden and table-top style board game tables for enjoyment of residents of all ages and abilities. The proposed site location in the Northwest corner of the park uses environmental design features already in place to promise privacy from neighbouring homes, use of existing pathways and benches. It is the expectation of the VVCA and the congregation that other park uses such as ultimate frisbee and soccer, which are frequently played in the green space on the east side of the park, will be unaffected by the garden area.
It is important that your VVCA hears your thoughts on the proposed project and will be hosting an Open House and Information Night event this Fall to discuss the project with our residents. We invite you to watch for more information and possible dates for the event on the VVCA website and Facebook page in the coming weeks. We look forward to seeing you this Fall.
---
Big Plans for a Little Park – Albert Rec Unit Rejuvenation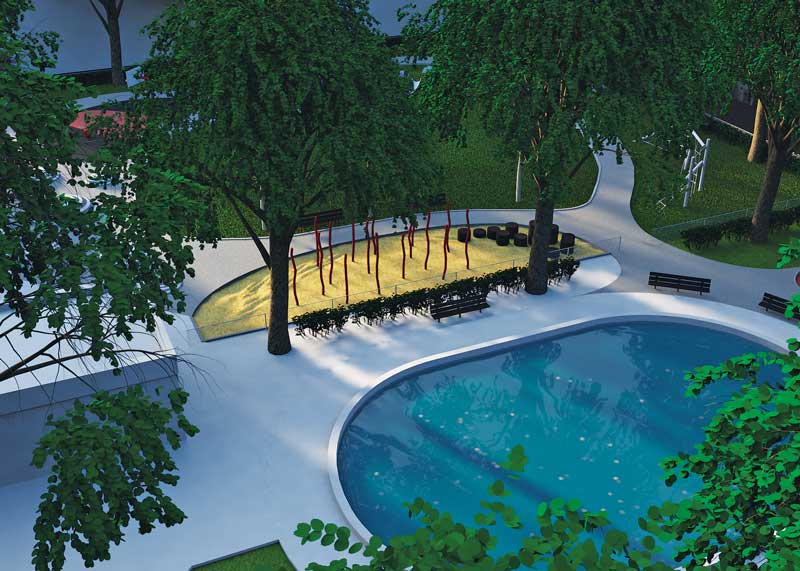 The Albert Recreation Unit, on the corner of Clarence and 13th Street, has been a little park used by Nutana and Varsity View residents for over 70 years. While the park has served us well, it is beginning to show its age. Our Big Plans committee was formed over a year ago to plan for its rejuvenation.
Now, after much work reviewing the park's facilities, getting feedback from the community and doing research and planning, our Big Plans for a Little Park are close to being finalized!
Overall, we focused on these goals:
– maintain the paddling pool and building
– increase the green space
– modernize the playground equipment
– make the park a safe and welcoming place for all in our neighbourhoods
We believe those goals have been well met!
We have tried to pack as much big fun into this little park as we can – making it a destination for all ages and all interests. The committee has been working with Oxbow Architecture – one of firms involved with the refurbished Kinsmen Park – to realize many of our goals with innovative and creative solutions. We are sure you will agree that the new park plans are a much needed improvement.
Highlights of the new plans include:
– Twisty sticks climbing and play structure
– A larger grassed area, with a small hill incorporating a slide
– New singles basketball court
– Planted tree play orchard near the south entrance to the park
– New play structures throughout the park
– Natural play areas
– More open areas for crafts or play
– New accessible paths
– Retaining the existing pool, building and established trees of the park
These may be big plans for our little park, but we believe that the neighbourhood deserves and will support a great little park like this.
Please consider donating and help us make our little park a Big Success!
DONATIONS: Please make cheques payable to: City of Saskatoon. Mark the cheque with "Albert Rec Unit". Tax receipts will be issued for all donations.
Mail your donation and this form to: Nutana Community Association, c/o École Victoria School, 639 Broadway Avenue, Saskatoon, SK S7N 1B2
---
Come & Play Together – Brunskill School Playground Fundraiser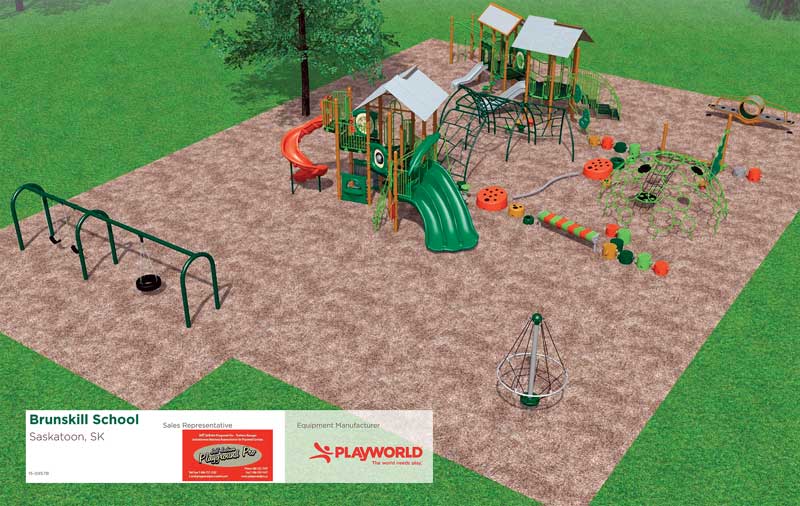 Come together…
Come and support our effort to replace the play structure in the Brunskill School playground!
Why? The current play structure is over fifteen years old and starting to show its age – some parts are broken or missing, which makes it generally unsafe for children to play. It needs replacing with a new modern, versatile and long-lasting play structure, such as shown below.
While being a 'school' playground and play structure, the grounds and play area are open to anyone, making it a destination for all and an opportunity for all to support the campaign.
This is an opportunity for our community to come together and create a vibrant and safe place for all children to play, for people to meet and a real destination within our neighbourhood for everyone!
Work together…
This funding campaign is a joint venture between the Varsity View Community Association (VVCA) and the Brunskill Home & School Association, along with a Saskatoon Public Schools contribution of up to $35 000.
VVCA's strength is in reaching out to the neighbourhood and non-school residents, while the Home & School has the attention of the school families. Both are working together to reach all those who would benefit or see the potential of this exciting project.
Our goal is to raise $215 000 over the next two years!
Remember that it isn't just the school and students that benefit from this new play structure – it is a community and public park accessible to all in the neighbourhood and beyond. We all benefit from this project!
Play together…
Thank you for considering a donation to our fundraising campaign – any and all donations are welcome and very much appreciated! We will recognize all donations (if you wish) in the VVCA newsletter and website, and are making plans for special recognition of any donations of $100 or more.
DONATIONS: Please make cheque payable to: Saskatoon Public School Division. Mark the cheque with "Brunskill Playground". Tax receipts will be issued for donations of $20 or more.
ONLINE DONATIONS now available via the Saskatoon Public Schools Foundation website here: https://app.etapestry.com/onlineforms/SaskatoonPublicSchoolFoundati/spsplaygrounds.html
Please mail or drop off this form with your donation to: Brunskill School, 101 Wiggins Ave N., Saskatoon, SK S7N 1K3
All together now…
Need more information? Have some questions? Please contact us here:
Brunskill Home & School Association email: brunskillvolunteers@gmail.com
Or talk to one of the fundraising committee members in person: Maya Wagner, Anu Bhargava, Lana Elias, Lisa Kirkham, Paige Goebel, Megan O'Shea, Tanya Napper, Tina Gabruch, Dale Swanston
---
Making Dreams a Reality in Varsity View and Grosvenor Park
Firstly, a big thank you to those of you who shared your views of our community the past few months. By consulting residents through dialogue, our website, and email, we built a clear picture of what residents would support in our community. Your feedback
put a strong emphasis on enriching public spaces, which is certainly a theme we will embrace.
Projects we are advancing through proposals, partnerships, and grant requests:
Functional art/seating area spaces in Raoul Wallenberg park (in partnership with Congregation Agudas Israel) and other parks.
Upgrades to Albert Recreational Park (in partnership with Nutana Community Association).
Playground upgrades to Brunskill School (in partnership with the school community).
A litter reduction project.
A heritage trail and signage.
As grants and partnerships are finalized in the coming months, we will tell residents more about these projects and will be asking for your financial support to enhance the beauty, uniqueness, and opportunity of our neighbourhood.
I encourage you to join us at our AGM April 16th to share your views on these ideas for our community (and also to discuss a slight change to our constitution, intended to bring the length of notice of our AGM in line with The Non-Profit Corporations Act).
Get involved in making a difference!
---
VVCA is excited to announce that we are considering our next major project(s) for Grosvenor Park/ Varsity View neighbourhoods. On the heels of our success with the playground improvements in President Murray Park and energized by a strong core of volunteers, we are eager to gather feedback from residents about what projects would best benefit our community and fulfill our mandate of improving quality of life for our residents.
We ask that you comment on which projects resonate the most with you and for ideas on how to make them world-class. We will be taking comments at our next registration night, January 21th, and gathering feedback via our website. After a period of public consultation, VVCA will announce our next major project(s) at our annual Louis' event in the spring.
---
Please see our Survey requesting feedback on the projects. Your input is important!
---
Community Projects
Proposed Possible Projects for 2014
These major projects impact your community so please send your feedback. Send email to projects@vvcasaskatoon.com with comments, ideas and feedback!
1. Heritage Trail and Recognition Signage in VV and GP
A Heritage Trail would serve to celebrate the history and heritage of one of the oldest and most distinct neighbourhoods in Saskatoon, while encouraging conscious and active lifestyles. The trail would flow through quiet side streets, area parks and oth-er neighbourhood corridors, potentially building on/improving existing street, sidewalk, walkway, alley and park infrastructure, with the opportunity to build site enhancements along the path route as desired. Such enhancements may include identifying signage, special trail lighting, water features, gardens, educational/activity sites for children, seating or picnic areas and bike medians/lanes to encourage alternative transit modes. The trail may receive best use from alternative traffic modes if situated diagonally across our communities, running from the southeast corner of Grosvenor Park to the Northwest corner of Varsity View (to McKinnon Ave and College Dr or Munroe Ave and College Dr).
2. Brunskill School Playground Renewal
The play structure in the school yard at Brunskill School was last updated in 1999. Since then the population of the school has steadily increased to its present capacity of 450 students. Brunskill School is the only Elementary school located in the Varsity View/Grosvenor Park area. Due to the number of children outside at recess time the structure is used only by the younger grades up to Grade 4. The playground is also regularly used by the children residing in the Varsity View area after school hours. The administration at the school would be very interested in partnering with VVCA and pur-suing the possibility of an addition or replacement of this structure to improve the quality of the students' recess experience. This project would have a very large impact on the play and enjoyment for the residents of Varsity View and the students at Brunskill/KCC Elementary School.
3. Multi-Use Court
The idea of a multi-purpose court is to incorporate a wide mix of sport and game activities into one court space, allowing a large cross section of the community to play their game of choice. Currently, the city of Saskatoon has no multi-use outdoor sport facilities, and a large (and still growing) demand for such space. While tennis is very well served, basketball, futsal, volleyball, ball hockey, badminton, bike polo and roller derby enthusiasts are all lacking in public sporting space that would allow them to play in Saskatoon parks. This project would make the chosen park a destination location for the city of Saskatoon, and the project could easily pair up with several community groups who are keen to improve the public access to active spaces for both children and adults.
4. Litter Receptacles and Awareness
The walk-ability and proximity to the University of Saskatchewan results in a high-volume of both vehicle and foot traffic throughout the neighborhood, and particularly closer to College drive, and other main thoroughfares such as Clarence and Cumberland. With increased use can also come litter. Our community does not currently have a strategy in place to help deal with litter, and offer pedestrians and motorists alike options for waste disposal. As a result, litter can be a problem in these high use areas, and has an impact on our neighborhood aesthetics. Providing more waste disposal options for both residents and passers-by would go a long way to keeping our neighborhood beautiful.
5. Albert Rec Unit Replacement
Albert Recreational Park borders on Nutana and Varsity View communities. It is a unique park – fully fenced, divided in half with paddling pool and play apparatus on one side, basketball court and play structures on the other. With the city's continuing growth the upgrade for this park keeps getting pushed back and safety has become an issue. In partnership with Nutana Community Association (NCA), VVCA and NCA could bring this park back to life!
6. Dog Park
Our community enjoys a number neighbourhood parks, many of which are underused for many months of the year. A site suitable for dog owners to take their pets to within the community to walk, run and play in an off-leash setting has been raised by a number of community members in past years. This proposal recognizes that the City of Saskatoon has numerous off-leash parks, however none within walking or cycling distance of either Varsity View or Grosvenor Park. Such a site could feature low-maintenance rubber pellet or natural prairie landscaping (for minimal operating expense) within a fenced/hedged perimeter to enclose the space, minimizing noise dis-turbance to neighboring homes. A park would be complete with pet waste and watering depots, sun shelters/trees and seating areas for owners to visit with one another. Rod V. Real Park has been identified as one possible site for such development.
7. Climbing Area/Skateboard Park
Although VV and GP have spaces for young children, teens have few recreational op-portunities close by in VV&GP. This project would construct an all ages climbing area of natural stone for children and children at heart to enjoy coupled with a skateboard park. Areas of increasing difficulty would allow children to practice their dexterity while developing coordination in a unique climbing environment. Teenage residents would enjoy skateboard features to practice their skills close to home.
8. Public Art, Functional Public Art (i.e., Chess Boards)
Art is fundamental to our humanity, ennobling and inspiring us. Public works of art foster a sense of community and public space as being more than merely functional; they help us express our values, build inter-cultural bridges, and open up the every-day and mundane to re-examination and small moments of wonder. They make our neighborhood more welcoming, beautiful, and more lively. Public art can also be practical and interactive. For example stone chess boards along public walkways en-courage non-sporting park use, and musical swings allows playground equipment to be a multi-player instrument.
9. Zen Garden/Meditative Garden
As hustling neighbourhoods, Grosvenor Park and Varsity View have few spaces one can sit and escape from the world. This project envisions a restorative space within an existing public space that creates tranquility and reflection.
---
Past Projects
President Murray playground upgrades.