Wolves of President Murray Park
by Pat Funk
A story about President Murray Park, as I remember— the one the City Parks department wants kept a secret.
President Murray Park (known in the thirties, simply as the Aird Street Park) is a reserve of 7 and a half acres, bordered by Colony and Aird Streets and by McKinnon and Wiggins Avenues. This makes it a close-by, popular destination, for a walk of the Varsity View neighbourhood. Those of use who live here, who in season enjoy the rose bed or taking grandchildren to play on the swings, would not suspect that between 1942 and 1946, it was thought a pack of wolves prowled the new park!
In 1942, 1100 spruce trees were planted and surrounded by barbed wire— the latte required, of course, to keep in that pack of wolves. Early plans for football fields, baseball diamonds and tennis courts had been abandoned. These sport activities might well have discouraged the wolves from claiming the park as their haunt.
That same year, Pat Searles,of 1311 15th Street, and Biddy Mawdsley, of 1127 Aird Street, started Grade 1 at Albert School on Clarence Avenue. They became "best friends". Biddy, especially admired Pat's athletic prowess in winning for the Albert School the city racing events. Pat, for her part, much admired Biddy's large family; albeit, a motherless family headed by Dr. Mawdsley, Dean of Engineering, with an older set of twins, Jane and John, and another older sister; all run smoothly by a housekeeper. Pat was an only child in the care of her mother and grandmother, so the Mawdsley household seemed wonderfully large and boisterous. Pat became happy to accompany Biddy home from school for snacks and playtime.
These play dates were quite idyllic for Pat, September through October, but with the days getting shorter and darker, the journey home for supper came to be fraught with fears. Pat would sprint as fast as her legs could carry her (remember, she was the Albert School primary sprint champion), but those closely planted spruce trees kept slapping as her and those wolves were probably just as hungry!
Lo and behold, in 1992, Pat's daughter and son-in-law bravely purchased 1210 Colony Street— all despite Pat's dire warnings of the myth of the President Murray Park wolves. But four years at that address were quite enough, so they moved to the safety of Phoenix, Arizona.
Even more amazing, in 2004, Pat found herself at a loss as to how to entertain her two grandchildren, now moved back from Phoenix. Where does she bravely take them, but to the swings of the President Murray Park play area?! Sarah knew all about the "pumping" the swing, to soar ever higher— matching the earlier athletic prowess of her grandmother no doubt. Over the following years, the park became a favourite destination, as Alexander too, learned to swing to the tree tops. Being in daylight of course, no wolves were spotted, even from such a great height.
Grandmother and grandchildren developed loyalty to this park. They took responsibility for picking up all the trash in the park as part of the Saskatoon/Meewasin Spring Clean-up Campaign. Do you suppose, that by keeping the park clear of trash, this team of three has rid the park of the scourge of those wolves?… It is quite safe to stroll the park, to smell the roses and watch your grandchildren play…
---
Driving through the Park
When President Murray Park was established, the City neglected to close Munroe Avenue (which ran up the middle of the park). Street and lane closures were not done until 1942 and lots were not cancelled until 1960. This did not affect the park, but there were problems in the early 1960s with people driving through the park on what was Munroe Avenue. This happened especially in the 1950s, when the path was built that runs up the middle of the park.
---
A Recollection of Varsity View Residents Taking Care of Each Other Early On
Rick Saunderson remembers that as kids, we used to skate on ice hockey rinks a lot and we would get hurt a lot. Back in those days, Thordy (Kolbinson) of Brunskill Pharmacy would come out with his first aid kit and fix you up. He would then tell you if you needed to go to the hospital or not. This story is an early example of how Varsity View residents cared for each other.
---
Dirt Roads
Back in those days, there were no paved roads in the neighbourhood. Every road was a dirt road. Early students Clarence and Marjorie Hillcox remembered the school (Williams School for the Deaf) standing out in the open prairie, which became a slough when spring arrived. They recall seeing a caretaker, who lived on higher ground, rowing a boat down Cumberland Avenue to get to school.
Source: City of Saskatoon, Heritage Property Inventory System.
---
Harry's Halfway House
This establishment was at the corner of College and Cumberland from 1924 until 1936.
Fred McKinnon remembers the Half Way House as being a whitish frame structure, with a few booths inside constructed of plywood, and a lunch counter where individuals could purchase coffees, milkshakes, or simple meals. The two-storey frame structure was known as "Harry's Half Way House" after its proprietor, Harry Fletcher. McKinnon believes that the Half Way part of the name meant that the establishment was half way between Sutherland and downtown Saskatoon.
Emilia Tyerman remembers the structure as a "snack place" having not booths, but "three or four round tables". Individuals would go up to the lunch counter to place their orders. Fletcher also sold tobacco, confections, and some basic groceries. She remembers the ice cream cones were 10 cents each.
Source: Office of Communications. (1999). Half Way House served U of S students throughout the '20s and '30s. On Campus News, 6(10).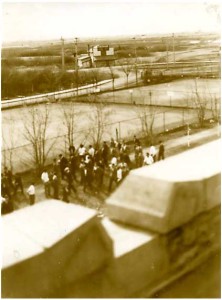 ---
Scattered, Patched Land
Stan Dunville remembers in the thirties and forties, and even later, this whole area was scattered, patched land with sloughs. Back then, everyone cut down trees for firewood, so you could see the Five Corners Complex (now Three Corners) from this area. Before there were ice rinks, my friends and I used to skate on the sloughs in this area.
---
Interesting Establishments in Varsity View
Linda Shaw remembers that growing up, there were a few unique services and buildings that were present in the neighbourhood. Higbee's Grocery on the corner of Temperance and Wiggins was one of them. Thordy's Drug Store, where the Chinese restaurant is now, was always a fun place to stop in before or after school for candy. We'd trade empty bottles for penny candy. This was especially fun on Halloween.
---
Bell's Green and White Service
The establishment was located at the 1420 College Drive from 1944 until 1975.
Doug Bell explained that his Uncle Elmer owned the entire property, including the lot where Wayne's used to be, which is now a Subway. The building where the Dairy Queen is, used to be Uncle Elmer's Drug Store. The service station and the drug store were located next to each other. My father Ivan Bell, managed the service station from 1949 to 1950.
It was a good location because the land was available and it catered to a lot of students. After the war, lots of men returned and pursued an education at the University of Saskatchewan, so they would come to Elmer's Drug Store and eat lunch there at the lunch counter. The drug store consisted of a pharmacy, a lunch counter and also sold basic groceries. After closing the drug store on College, Elmer started a drug store on Broadway. Eric Walling of Walling's Restaurant took over the space on College after the drug store closed. The service station had 2 service bays, one mechanic, and one gas attendant. Tire repairs and oil changing were services that were offered. The service station closed in the spring of 1975.
---
Beautiful Homes
Some of the homes in Varsity View used to be featured on Saskatoon's most beautiful home lists featured in the Star Phoenix. There used to be friendly rivalries between residents in the neighbourhood who were wanting their houses to be on this list. The original builder of most of these homes lived in the neighbourhood.