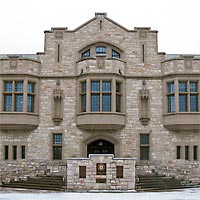 The University of Saskatchewan was founded in 1907, and its development was matched by the development of the Varsity View neighborhood, located directly south of the then new university.
DID YOU KNOW: President Murray Park, in the heart of Varsity View, was named for Walter Charles Murray, the University of Saskatchewan's first President. He held the position from 1908 until his retirement in 1937.
---
Programs:
University of Saskatchewan: Check out the U of S for more information on classes, programs and more.
Centre for Continuing & Distance Education: From learning English or art, to music or math, the university has classes for kids to seniors. Check out programs for personal interest, or for credit towards a degree or certificate.
---
Activities and Recreation:
Recreational Services: College of Kinesiology offers aquatics lessons and leadership, dance, gymnastics and personal training.
Kinesiology Activities Guide: Take part in the exciting programs and activities at the Physical Activity Complex in the College of Kinesiology.
Kids Summer Camps: From field trips, to performing in a play to learning about science and engineering, or training to be our next Huskies quarterback, opportunities are available all summer long.
Huskie Sports Camps: Huskie Athletics offer the Huskie Sport Camps from the Physical Activity Complex.
The Physical Activity Complex (PAC): Public memberships are available for the Fit Centre, which features a 13,500 sq ft fitness centre, a triple gymnasium and a 42-foot rock-climbing wall. Complementing the facilities are program offerings in aquatics, dance, fitness and special needs.
Museums and Galleries: Explore art, history, dinosaurs and more!
---
News & Events:
Check out the calendar of events at the university. Find out what is happening on and around campus.
For news around campus visit On Campus News.
Check here for information on the College Quarter – a multi-year plan to develop a 145-acre site into a sustainable new U of S community. The plan features a variety of uses—student residences, academic, recreational and sports facilities, green spaces and a mix of offices, shops, restaurants, cafés, bookstores and more. Links to a PDF Master Plan and Zoning information can be found at the above link.
---
Residence:
You can live in Varsity View while attending university. Check out the University Residence. The University of Saskatchewan Students' Union (USSU) also provides information on Housing.
---
U of S Summer 2012 Bus Schedule:
On April 29, 2012, Saskatoon Transit will introduce its University of Saskatchewan (U of S) Summer Route Schedule.
Each year during the post-secondary school term, Saskatoon Transit adds additional routes to support the higher number of transit users travelling to and from the U of S.
As ridership decreases over the summer, as of April 29, 2012, the following support routes will travel less frequently or may be temporarily discontinued:
Route 13 Lawson Heights
Route 13 Broadway
Route 17 Stonebridge
Route 21 University
Route 21 Forest Grove
Route 22 City Centre
Route 22 McCormack
Route 28 Forest Grove
Route 28 University
Route 90 University
Find out how these routes will change over the summer in the following ways:
Visit www.transit.saskatoon.ca for information on Routes and Schedules;
Call Saskatoon Transit at 975-3100; or
Look for information posted on the U of S campus bulletin boards.
---
Children's Hospital of Saskatchewan Construction Access:
To accommodate the construction of the Children's Hospital of Saskatchewan, the Saskatoon Health Region, in consultation with Meewasin Valley Authority and University of Saskatchewan, have proposed development of a temporary alternate construction access road to the grounds of the Royal University Hospital. The proposed temporary construction access road would be on university land near the riverbank and near a Meewasin Valley secondary walking/biking trail and is expected to stay in place for about five to six years.
---