610 Clarence Avenue South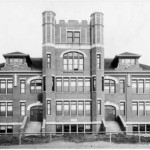 Albert School (now Albert Community Centre) is located at 610 Clarence Avenue. Victoria School, built in 1887, was the first school built in Saskatoon, but by 1911 the school had become overcrowded. As a result, between 1907 and 1914, nine new schools were built including Albert School. Some sources suggest that Albert School was named after Albert, husband of Queen Victoria. However, some other sources say the school was named after Saskatoon School Board Chair Albert J. Sparling. Albert was one of the schools built by Saskatoon architect David Webster, who arrived in Saskatoon in 1908 from Scotland.
Albert school officially opened in 1912. Both Albert and King George schools were built using the same architectural framework and the foundation stones for the two schools were both laid on September 26, 1911. King George School was demolished in 1979, but Albert School was spared the wrecking ball.
Albert School was well known for its sports teams, particularly in lacrosse and hockey. In 1913, the Albert lacrosse team won the School Lacrosse Championship. In 1914, the Albert hockey team won the City Hockey Cup. Albert was one of only three schools to offer special classes to students of Ukrainian descent in 1916.
For over 60 years, Albert remained a vital education institution. However, in 1978, the School Board decided to close the educational doors of Albert School due to declining numbers of enrollment. From 1978 until 1982, Albert served as the home for the Saskatoon French School L'Ecole Francaise de Saskatoon, which was the first French immersion school in the city.
After being purchased by the City of Saskatoon in 1982, Albert School became the Albert Community Centre. In the same year, several renovations were made to the building, including the addition of a sprinkler system and extra washrooms, as well as the relocation and rebuilding of staircases. In 1985, Albert officially opened its doors as a Community Centre.
Currently, Albert Community Centre is home to six tenants: Albert Indoor Playground, Saskatoon Aikido, Saskatoon Potters Guild, Brenda's School of Baton and Dance, Albert Childcare Co-operative, and Congregation Shir Chadash. Albert received municipal designation status in 1983.
This information was gathered from the following sources:
– Diamond, E. (1994). Saving Our City: Saskatoon's Protected Heritage Structures. Saskatoon: Municipal Heritage Committee.
– Albert Community Centre. (n.d.). Albert Community Centre Pamphlet. Saskatoon, SK: Author.