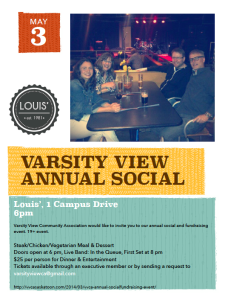 Varsity View Community Association would like to invite you to our annual social and fundraising event. 19+ event.
Event Details:
Saturday, May 3, 2014
Louis' Pub at the U of S
Steak/Chicken/Vegetarian Meal and Dessert
Doors open at 6 pm, Live Band: In the Queue, First Set at 8 pm
$25 per person for Dinner and Entertainment
Tickets available through an executive member or
by sending a request to varsityviewca@gmail.com
You can download our event poster here.