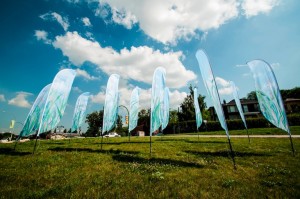 The City of Saskatoon is hosting a public art presentation by Sweetgrass Sway artist
Heather Shillinglaw. The public is invited to meet the artist and hear her talk about her
artwork. Sweetgrass Sway is a temporary public art project comprised of 12 feather
shaped flags with images of sweetgrass on them and arranged in the infinity symbol.
It is currently installed at the entrance to Cosmopolitan Park at the top of the University
Bridge and end of College Drive through the City's temporary public art Placemaker
Program.
The presentation will be:
Saturday, August 23rd, 2014
11 am
Kehrig Gallery
8th Floor of The Bessborough Hotel
803 – 601 Spadina Crescent East
For more information about the Placemaker Program, please visit www.saskatoon.ca
and search under "P" for Placemaker Program.